'Mari Makan!' – Let's eat! Like many Asian countries, Indonesia is also big on food. The cuisine is full of flavour and most traditional dishes are served with rice aka "nasi". Our 3 month Academy Surf Instructor Course is sure to make you ravenous daily. These are some of our Mojosurf staff favourites that are tried and tested after a long day's surf.
1. Nasi Goreng
Fried rice – the go-to Indo food that will be available from most street kitchens to fine dining restaurants. You cannot visit Indonesia without having Nasi Goreng! The dish is full of flavour and has all the goodies in it. We love it! Traditional Nasi Goreng is spicy, so remember to order yours according to your chilli tolerance.
2. Bintang
'Satu Lagi!' – One more. Oh, Bintang. Indonesia's famous pale lager. Is there anything better than an ice-cold Bintang on the beach during sunset? We don't think so! Beer just tastes better on the beach.
3. Mie Goreng
Fried noodles – the noodle version of fried rice. If you want to eat local food but want something without rice, Mie Goreng is your choice. It is usually served with veggies, chicken, or seafood.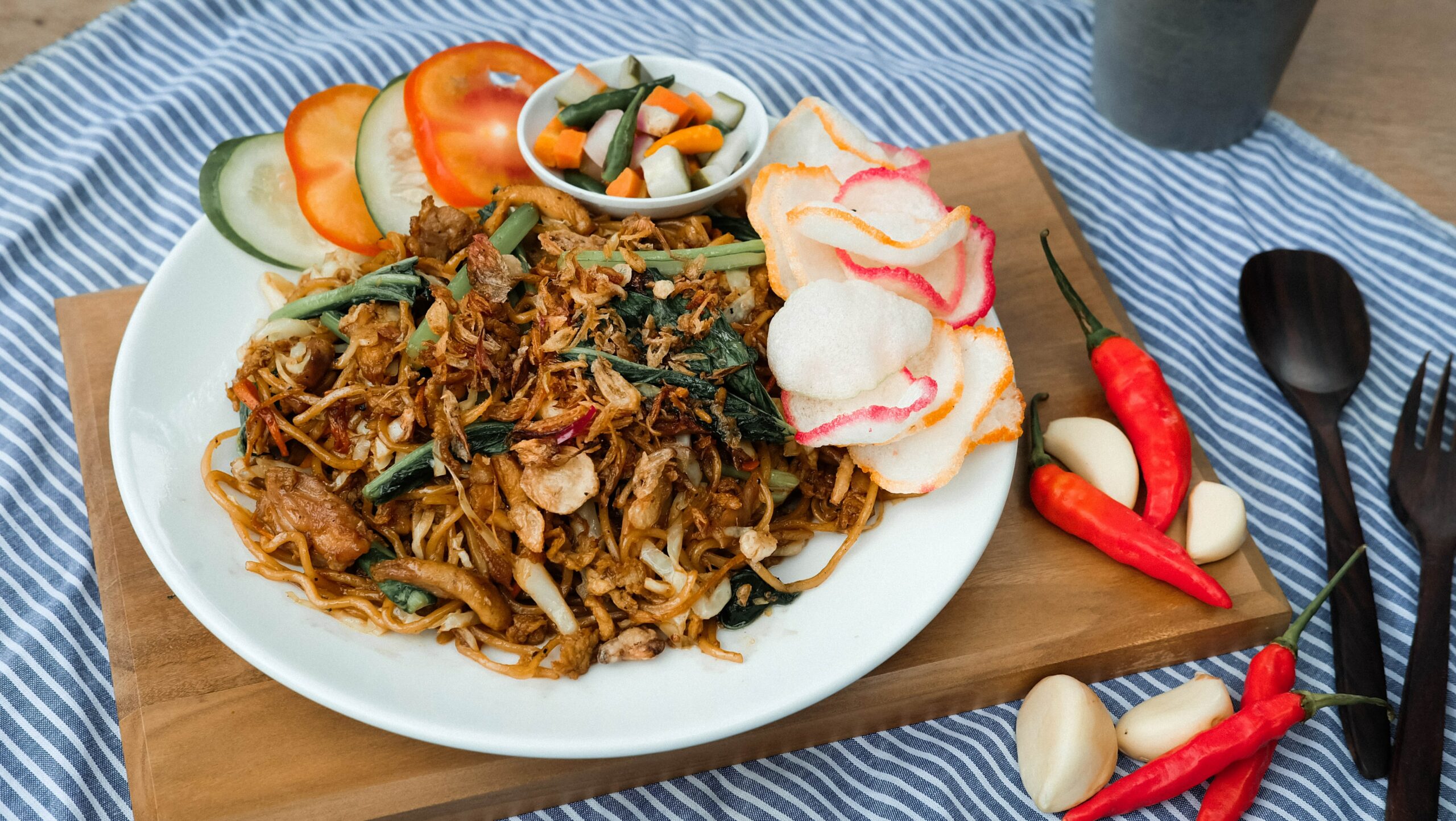 4. Fresh Coconut
The local Indo goodie: Fresh Coconut aka 'kelapa'. This natural Gatorade is full of electrolytes and will keep you hydrated in the heat. Best served cold after surf! Pro-tip: add a bit of lime for even more freshness and don't forget to try the meat as well.
5. Nasi Campur
This budget-friendly pick and mix style rice-dish is local to Bali. You can choose from many different options with meat, veggies, fish etc. You name it!
6. Beng Beng
Indonesian crunchy chocolate bar Beng Beng is perfect on the go snack. Works pre and post-surf, as a midnight snack, as a quick fix for hangriness and at any other time of the day.
This snack is so good that a surf break in the famous Mentawais was named after it.
7. Fresh Fruit
The land in Indonesia is volcanic and super-rich which makes it ideal for so many delicious fruits to grow all year round. It's safe to say that the best mangoes, watermelon and papaya we've ever had has been in Indo. Ask the local Mojosurf team which fruits are in season and try them out. You will not regret it.
Also, be curious and try out some fruit that you've never had before like rambutan, snake fruit, dragon fruit and even the stinky one: durian.
8. Ikan Bakar
Never say no to a chance to have Indonesian Fresh Fish BBQ. Ikan bakar is a call for a get-together and good times. On the island adventures, if you're lucky, you can have Fresh Fish BBQ on the beach or alternatively enjoy a sunset dinner in Jimbaran fish market in Bali.
9. Nasi Jinggo
Nasi Jinggo or Volcom Rice is a compact serving of rice typically with some noodles, chicken, peanuts, coconut, tofu, and chilli sauce. Nasi Jinggo is a true eco-dish since it is packed and served in a banana leaf. Say no to plastic – eat Nasi Jinggo!
10. Bali Coffee
Early morning wave check while sipping on your black Bali coffee is a different kind of satisfaction. Indonesia is famous for its coffee and the local people like their coffee sweet. If you don't like sweet coffee, remember to order yours with less or no sugar and enjoy!
11. Pisang Goreng
Deep-fried bananas – a typical Indonesian snack. You have to try them fresh and warm. Did you know that there are more than 200 different types of bananas that grow in Indonesia? 
Don't think there's enough time to eat them all? You can eat all this food and much much more when you join our 3-month Surf Academy Instructor Course in Indo. Our Mojosurf school will have you immersed in surf and the culture of Indo. Find out more here.