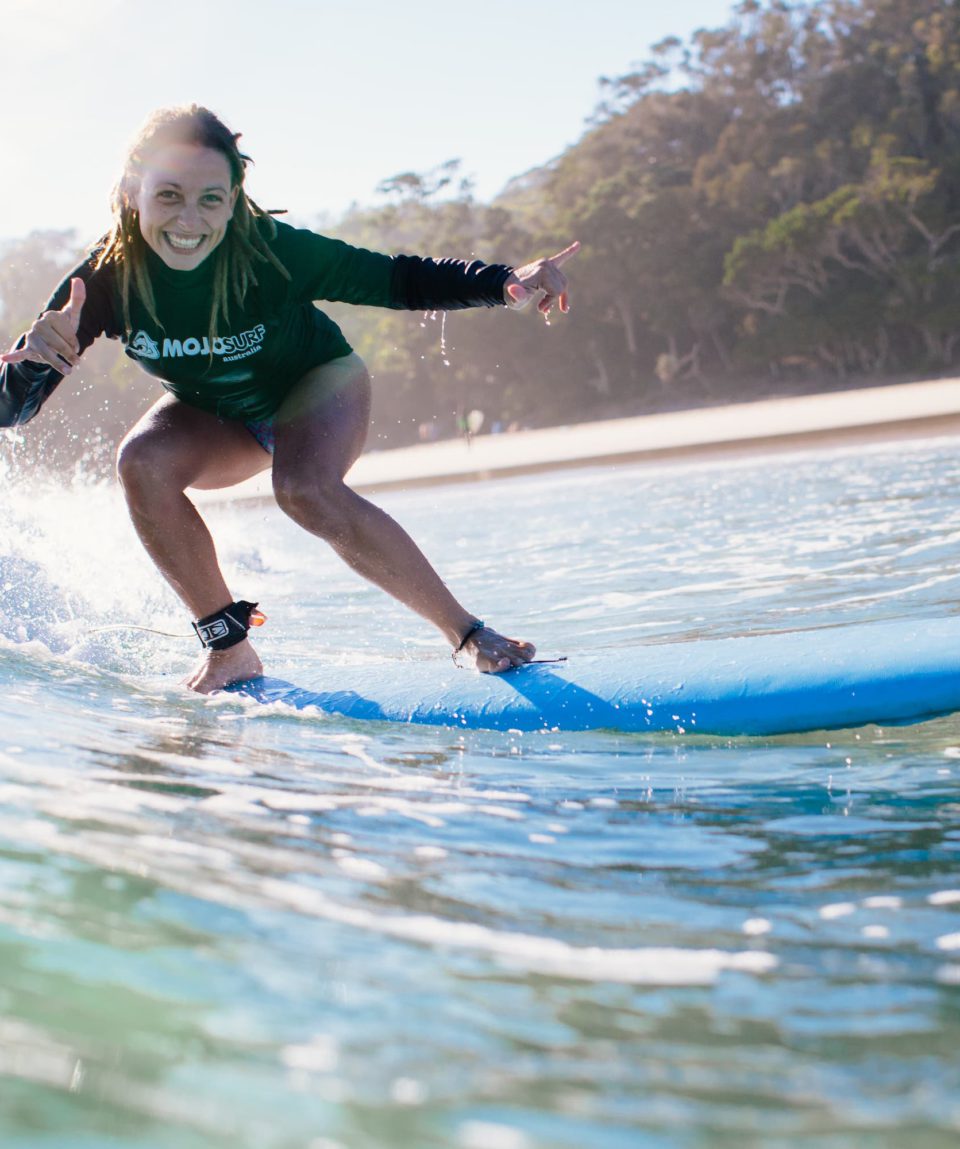 SURF LESSONS FROM BYRON BAY
BYRON BAY - LENNOX HEAD - BALLINA - BYRON BAY
from $AUD69.00
Daily Surf Lesson

Surf Equipment Included

Guided Mojosurf Experience

Return Coach Travel
Mojosurf runs the ultimate learn to surf school in Australia
If you have limited time or budget then jump on board for a 3-4 hour Surf Adventure (includes return travel to and from Byron Bay, ocean safety, warm up, surf lesson, and time in water). Small groups, uncrowded perfect waves, great selection of beautiful beaches (from Lennox Head to Ballina) and we'll even have you back in time to enjoy all that Byron has to offer!
To progress further with your surfing, 2, 3, 4 and 5 Day Progressive Lesson packages are also available.
Learn to Surf With Mojosurf
Mojosurf run the ultimate surf school in Australia. Join our surf lesson, from Byron Bay we'll take you to the best beaches with perfect learning waves and will have you riding in no time. We have photographers come along on our lessons so you can choose to take your epic surfing memories with you!
Before your surf lesson you will be met by your friendly Mojo Guide and meet the rest of your surf group where you will be whisked away to the best beach (the exact beach depends on the conditions on the day) where the waves are ideal for learning to surf.
Private Lessons are also available for up to 2 people per lesson. Contact Mojosurf for more information.
Choose from a half day surf lesson or select a progressive lesson to improve your surf skills.
Surf for longer & save
1/2 Day Surf Lesson – $69
2 Day Progressive Surf Lesson – $125
3 Day Progressive Surf Lesson – $175
4 Day Progressive Surf Lesson – $228
5 Day Progressive Surf Lesson – $278
What's Included?
Surf Lesson
Pick up and transport to the beach (and return)
All equipment provided during lessons
*Please note that our group lessons cannot accommodate children aged 14 years and under. Please contact us directly and we can discuss alternative options for your kids.
Daily Morning and Afternoon Lessons.
Depart from Byron Bay Arts factory Lodge and Mojosurf Shop at 18 Fletcher Street, Byron Bay (plus various other locations in and around Byron Bay)
Lesson times are subject to availability, season and weather conditions
A bottle of water
Swimsuit and/or boardshorts
Beach towel
Hat and sunscreen
Camera
1-5 Day Surf Lessons AM or PM

We will pick you up in the morning or afternoon (depending on what you booked your lesson) from one of a number of locations around Byron Bay and whisk you away to where the waves are best for learning to surf!

Depending on the conditions, we can pick from plenty of beaches around Lennox Head and Ballina to ensure you get the best possible learn to surf experience on uncrowded waves.

Once we get there, we'll get you suited up with a surfboard, rashie and a wetsuit if needed. After a quick stretch and beach lesson, we'll hit the water for some Mojosurf surf school action!

If you booked a progressive lesson, repeat this for another 1, 2, 3 or 4 days while improving your surfing skills.
Byron Bay Surf School Reviews
"Mojo Surf consistently hold their surf lessons in epic locations without the crazy crowds." - Nicola Cukier
| Product Type | Nights (Locations) | Description Mojo product | Price p.p. | |
| --- | --- | --- | --- | --- |
| 1/2 Day Surf Lesson Departing Byron Bay | | | | |
| 2 Day Surf Lesson Byron Bay | | 2 Day Progressive Surf Lesson Byron Bay | | |
| 2 Day Surf Lesson Byron Bay | | 3 Day Progressive Surf Lesson Byron Bay | | |
| 4 Day Surf Lesson Byron Bay | | 4 Day Progressive Surf Lesson Byron Bay | | |
| 5 Day Surf Lesson Byron Bay | | 5 Day Progressive Surf Lesson Byron Bay | | |