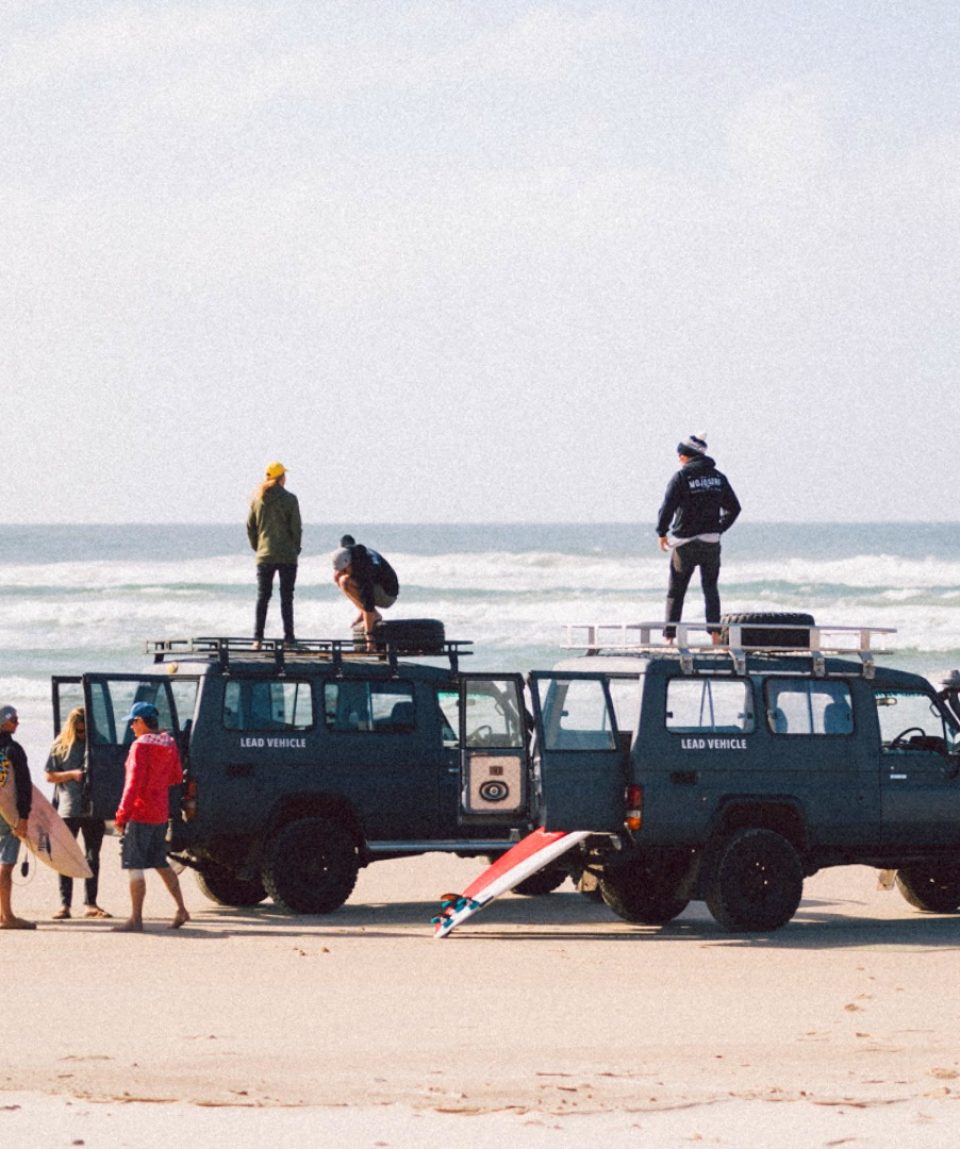 1 DAY PRIVATE SURF 4X4 TROOPY TOUR
Byron Bay | 4X4 | Lennox Head | Byron Hinterland
from $AUD110
Daily Surf Lesson

Surf Equipment Included

Guided Mojosurf Experience

Return Coach Travel
Adventure beyond Byron Bay with an epic Troopy Tour with you and your crew. Uncover the delights of the beautiful and less known Southern beaches of the Northern Rivers with some 4×4 beach cruising, an awesome private surf lesson and tour of the local Hinterland highlights.
Price based on per person for a group of 6 people
Includes Private Surf Lesson, 4×4 Beach Session, Local Tour Guide And More
1 Day Private 4X4 Troopy Surf Tour
TOUR SUMMARY
Immerse yourself in the true blue tradition that is the Aussie surf check. More than just a surf lesson, you'll be acquainted with the art of scouring the local breaks 4X4 style. Picking out the best spot of the day is a right of passage for most surfers and can often be as much fun as the surf session itself - top it off with a local tour of the hinterland secrets of our wonderful Byron region. You and your crew will be stoked.
No matter what, your day adventure will be packed full of epic fun - starting in your new rig on a muddy 4X4 session. Followed by a private and personalised surf lesson - our qualified and local Mojosurf Guide will teach you the ins and outs of surfing with ocean safety, surfing techniques, warm-up and time in the water. We'll have you gliding along a wave in no time. You'll finish the day with light refreshments followed by a Hinterland scenic tour home. You beauty.
Whether you're a family, a group of backpackers or girl gang - you're guaranteed an awesome experience.
TOUR INCLUSIONS
Tour Highlights
Explore Byron Bay, Lennox Head and the Byron Hinterland by 4X4  
Learn to surf away from crowds with a private 2 hour lesson (includes all equipment)
You're in safe hands with an included qualified and local surf guide and driver
Light refreshments included, with optrional Street Sushi picnic add-on available
Get up and personal with the scenery of the Byron Bay Hinterland on a scenic Troopy drive tour
Pickup and drop off from your location within the Byron Bay or Ballina Shire
Go the extra mile with a beach fitness session (if you feel like it, no judgement here)
Optional add ons
Sushi lunch at $15 per head 
Photographer to spruce up your Instagram
Please note: Your add ons will be confirmed by a Mojosurf Representative after booking your tour.
Private Surf Lesson
Running for approximately 2 hours, your group's private surf lesson will be packed full of all the good stuff: ocean safety, warm-up, surf theory and hands-on lesson in the water.
Depending on the weather and surf conditions your lesson will be located in either Lennox Head, Flat rock or The River Mouth - Ballina. With your tight-knit group, uncrowded waves, great selection of beautiful beaches and you'll be gliding along a wave in no time.
Read Mojosurf's 8 tips to get you surf-ready here.
About Your Surf Guide
Each Mojo Guide is a fully accredited Surf Instructor equipped with their Level 1 Surfing Instructor Qualification, First Aid Certificate, Ocean Safety Certificate and Working with Children Check. Not only do our guides have all the bells and whistles they also have a thorough and local knowledge of the area and our beach breaks. This ensures you'll be sure to get the best out of your surf tour and lesson and learn about our beautiful area along the way. Now that's priceless.

About The Vehicle
Ride in comfort and safety in our Toyota Landcruiser 4X4 'Troopcarrier'. Meaning people carrier (but us Aussies call them Troopys) these fun-mobiles are fully equipped with the top of the line safety and all your comfort requirements including:
Air conditioning
First aid kit
Seatbelts
Disc brakes
33' mud tyres
3' body lift
Roof tray
Bullbar and more
Plus it looks pretty sick in photos
Perfect for your day adventure. Yewwww!

Dates and Start Times
The Mojosurf Troopy Tours run daily 7 days a week, subject to availability. This tour starts at 10 am each day. To see available dates please select 'Book Now'.
Your starting time will be confirmed after booking by one of our Mojosurf Representatives.
Tour Duration
From pick up to drop off each tour is around 6 hours in duration. This includes the 4X4 drive beach adventure, 2-hour surf lesson, Lennox Head Point Pit Stop and Byron Hinterlands tour.
Pick up and Drop off
You can either choose from the following pickup/drop off locations or let us know where you would like to be picked up from.
Mojosurf (Wreck Surf Shop) - 6/4 Jonson St, Byron Bay 2481
Arts Factory Car Park
Backpackers Inn
Wake Up Hostel, Belongil
Glen Villa Resort
The Health Lodge (Cape Byron Lodge)
Suffolk Park Bus Stop (North of Shell Servo)
Lennox Head SLSC Car Park
Ingenia Byron Bay Holiday Park - Broken Head Road

Please note: Before departure, we will organise your pick up location within the Byron or Ballina Shire region.  Please note your pick up/drop off location may alter your tour time.
IMPORTANT INFORMATION
Surfing and Swimming Competency
Whilst you're in the water you will be supervised at all times but you do need to be able to swim to participate in surfing. This tour is suitable for beginners to advanced surfers. Your guide will alter your private lesson to suit you and your group's surfing capabilities.
Child Policy
Children aged 7 years old and above can participate in tour and surf lessons. All children must be accompanied by a responsible adult over 18 years old. Full price applies for all children travelling with their parents.
Group Booking Pricing
The total price of booking will come to $660 per tour, with a maximum of 6 person capacity. Each Mojosurf Troopy Tour can have 1-6 people on board.
MojoPay
Looking for flexible payment options? Contact Mojosurf and a friendly representative will be able to discuss your options.
Booking Information
You can book with confidence with free date changes available*. With borders opening and closing and everything all up in the air, we wouldn't have it any other way!
*If your booking is within 48 hours a $55 admin fee will be charged.
Looking for our Mojosurf Refund Policy and T&Cs? You can find it here.
Got a question?
Of course you do! We have a wonderful team of Mojo Legends on hand to answer you questions and make your booking 7 days a week 10am-4pm AEDT.
Alternatively, if you're in town you can drop into our Mojosurf Shop at The Wreck Surf Shop at Shop 6/4 Jonson St, Byron Bay NSW 2481.
FREQUENTLY ASKED QUESTIONS
Is this tour family friendly?
It sure is! It's the perfect adventure for the family. Here is a group pic of our recent family adventure of one of our most recent Mojosurf Troopy Tour adventures. Thanks for the pic Cindy! Read her review here.

What do I need to bring?
A bottle of water
Swimsuit and/or boardshorts
Beach towel
Hat and sunscreen
Camera / smartphone
Can we have a group of less than 6 people?
Yes, but the price for the vehicle is the same.
Do you have flexible booking options?
Yes, the date can be changed for free up to 48 hours before travel. If your booking is within 48 hours a $55 admin fee will be charged.
I can't swim, can I still surf?
You are supervised at all times but you do need to be able to swim to participate in surfing. 
I'm a big guy/girl, can I still surf?
We cater for all shapes and sizes, we have wetsuits and boards suitable for the XXXS to the XXXL.
Do I have to share the tour with strangers?
Nope! This is a private tour. That means you will have the entire Troopy  for yourself and your crew!
What beach will our surf lesson be at?
 Your lesson will be located at either Lennox Head, Flat Rock or River Mouth. Your surf guide will decide which location you lesson will be depending on surf and wind conditions. 
What is Mojopay?
Mojopay allows you to make a deposit and pay the remaining balance 30 days before your start date. Mojopay can also allow you to make regular payments if that is what you wish. Please contact us for further information.
What is your COVID safety plan?
Our vehicles are cleaned daily. Our staff have not travelled to any hot spots in the 14 days prior and maintain a high level of cleanliness.
Do I have to share with strangers?
No, this is a private tour for you and your friends/family.
Pick up and Day Preparation Let's get this party started

It all begins with your pick up, and if you're not excited you should be because a decked out Troopy with your name on it will be rolling in. Our Mojo Legend surf guide will have already assessed the surf and weather conditions for the day and have the target locked and loaded. First stop, 4X4 adventure in the mud.

Private Surf Lesson and Surf Fitness Locked and loaded - it's time to get salty

After scouring the sands of 7 Mile Beach or Mojo Legend surf guide would have already assessed the conditions and decided where your private lesson will be located. You'll begin your surf strike mission at Lennox Head, Flat Rock or The Rivermouth.

Starting the lesson with surf and ocean safety, a warm-up and 101 on surfing before getting amongst it. Our legendary guides will be on hand to advise, teach, and guide you throughout your surf lesson. You can also have the magic of your lesson captured for your Insta profile as an optional extra! Oh, and if you're up for it, we'll have a surf beach fitness session.

Picnic and Byron Hinterland Scenic Tour Put your feet up and take in the scenery

Here you'll be able to put your feet up and enjoy an optional sushi picnic lunch and of course, take in the view.

As they say, always take the scenic route. You'll finish your day adventure on a Byron Hinterland scenic drive through some of the most magical and hidden spots of the area. Gorgeous, green rolling hills, fertile farmlands and incredible views – it offers a scenic and cultural contrast to Byron's beach lifestyle.   

Feeling salty and happy we'll drop you back to your drop off location.
Mojosurf Reviews
Learning to surf in Byron Bay & Beyond
"Mojo Surf consistently hold their surf lessons in epic locations without the crazy crowds." - Nicola Cukier