3 MONTH ACADEMY SURF INSTRUCTOR COURSE
SPOT X - Arrawarra
from $AUD9,644
Weekends Off To Explore The Surrounds

3 Fitness Sessions Weekly

Return Coach Travel

All Equipment Provided During Lessons

5 Weekly Practical Surf Development Lessons

2 Weekly Surf Theory Lessons

Level 1 Surf Coaching Qualification - Additional Fee

Most Meals Catered For

90 Nights Shared Accomm

Beach Activities

XPRESSION SESSIONS

Lessons By Highly Qualifed Surf Instructors
Come live the dream in Spot X! Make friends, have fun, explore the area, develop your surfing and have the time of your life. And while you're at it, why not develop the skills required to pass all qualifications needed to become a licensed surf instructor!?
Includes surf development training, accommodation, daily breakfast, lunch and dinner Monday to Friday , fitness sessions, video analysis, transfers and so much more
Surf Academy based in Spot X – Arrawarra
3 Month Surf Instructor Course
Surf Instructor Course Summary
From the moment you arrive at Spot X you will feel its salty, creative, laid back vibe - known for its incredible waves, lifestyle and natural wonders. You're in for a treat.
This unforgettable three month surf instructor course will be packed with a carefully curated array of practical and theoretical lessons, hosted by fully qualified and experienced instructors. Get ready to lap up your days under the sun learning all the necessary skills to become a surf instructor with expert tuition, instructors and feedback. You'll be catching, riding, and turning on unbroken waves in no time. 
Immerse yourself into the surfer's lifestyle with included accommodation at the Mojosurf Camp at Spot X Arrawarra, an included meal per day, free camp activities, accommodation facilities, surf equipment and so much more.
Course highlights
Course Lessons
Live the dream develop the skills to become a qualified surf instructor
Develop your surfing with 5 x weekly practical surf development lessons
Get to know the nitty gritty with 1-2 x weekly surf theory lessons
Learn how to read a wave with ocean safety and awareness lessons
Gain your confidence with lessons provided by highly qualified & experienced instructors
Get in shape with 3-4 fitness sessions every week
Improve week on week with video analysis sessions
All equipment provided except for wax. Purchasing your own wetsuit is recommended
Accommodation Inclusions
90 nights of exclusive Mojosurf Academy dorm accommodation
Enjoy your choice of complimentary breakfast or lunch daily 
Utilise kitchen facilities available at the surf camp at your leisure
Free wifi
Bonus Inclusions
Return transport from Sydney, Coolangatta or Brisbane to Byron Bay
And much more
Optional Add-ons
Certified Level 1 ASI certified Surf Coaching qualification which includes Ocean Surf Safety Coach Award (OSSCA), Senior First Aid, Advanced Resuscitation and Work with Children Check. 
See more information below under 'Important Information'


About Your Surf Academy Leaders
Each Mojo Instructor is a fully accredited Surf Instructor equipped with their Level 1 Surfing Instructor Qualification, First Aid Certificate, Ocean Safety Certificate and Working with Children Check. 
Our staff include coaches from world ranked WSL (World Surf League) competitors, to legendary life-long watermen (and ladies!). Even our younger crew have years of coaching and surfing experience under their belts and they ALL have one thing in common - they LOVE to surf and share it with the world.   
Following a Surf Academy Instructor program nothing is missed, the instructors will take you through each step of becoming a surfer and then, a surf instructor. Safety, learning and fun are all paramount for us and we pride ourselves on being the pioneers of the Academy Program in Australia. We have been introducing people to surfing and the ocean for over 20 years and even now, no one does it quite like us!   

IMPORTANT INFORMATION
Academy of Surf Instructors (ASI) Accreditation and Other Qualifications
Make it official and acquire your internationally recognised surf instructor qualifications. This optional add on allows you to acquire the following certifications and qualifications under one local payment fee of $1000.
Academy of Surf Instructors (ASI) accreditation
Ocean Surf Safety Coach Award (OSSCA)
Senior first aid
Advanced resuscitation
Working with Children Check
These qualifications, along with a substantial contact experience shadowing lessons enable you to become a full fledged and employable surf instructor. The advanced resuscitation and first aid qualifications are also great life skills and also come in handy in many job roles. Successfully completing our 3 month Surf Academy course allows you to obtain all of these certifications and gain this valuable experience so that you can go to your future employer and demonstrate you have the skills, knowledge and drive to be their next surf teaching star   
The OSSCA provides surf coaches completing the National Coaching Accreditation Scheme Level 1 Surf Riding Coach/Instructor qualification (as well as alternative and higher levels) to satisfy the specific rescue and beach management needs of surf coaches delivering programs to groups and individuals in open water surf locations, and as well provide for accredited coaches to meet mandatory annual update requirements.
The ASI (Academy of Surfing Instructors) is recognised as the world's leading professional membership body in surf instruction training and certification. The Level 1 instructor qualification is the entry level for anyone wanting to work as a surf instructor. Once gained, this certification is internationally recognised and allows the holder to work across the globe as a surf coach.
To pass all of the above certification and accreditation to become a Level 1 Surf Instructor you must attend all classes, you need to have an intermediate surfing skill level. (see FAQ re how long it takes to develop intermediate surfing skills, demonstrate the required surf skills, be found competent in the qualifications, and pay an additional $1000 local payment for the statutory certification & accreditation.
Age Policy
To do the Byron Bay Surf Academy you must be 18 years or older.
Mojopay
Looking for flexible payment options? Contact Mojosurf and a friendly representative will be able to discuss your options. Learn more about Mojopay here.
Booking Policy & Cancellation Policy
You can book with confidence with free date changes available*. With all the changing regulations on travel, we wouldn't have it any other way!
If you have to cancel as a direct result of Covid 19, rest assured you will receive a 100% refund.
*If your booking is within 7 days a $55 admin fee will be charged.
Looking for our Mojosurf Refund Policy and T&Cs? You can find it here.
Got a question?
Of course you do! We have a wonderful team of Mojo Legends on hand to answer your questions and make your booking 7 days a week 8am-6:15pm AEDT.
Frequently Asked Questions
What facilities are available in camp?
The Mojosurf Academy Camp is located at Spot X and has all the facilities you would need including:
24 Hour Reception
Communal kitchen
Free Wifi
Travel Shop
BBQ
Campsite
Laundry Facilities
Onsite Parking
Volleyball Court
Are meals and accommodation included on weekends?
Accommodation and 3 meals per day are provided for the entire stay at The Surf Academy package. Students have the weekends off to give them the opportunity for R&R as well as the chance to practice their surf skills and explore the local area. With Byron Bay just a 2 hour drive away or you can catch the Greyhound Bus, there is plenty to do including, hiking, kayaking, horse riding, skydiving and hot air ballooning, not to mention the multitude of eateries and bespoke artisans around every corner!
Do I need to bring my own wetsuit and board?
No, we supply all the equipment for you including surf boards, wetsuits, rash vests and sunscreen. If you prefer to bring your own wetsuit you can do so. If you decide that you would like to purchase your own equipment, the surf academy staff can assist in helping you choose the most appropriate surf equipment and surf boards from local shapers and surf shops.
What do I need to bring?
Swimsuit and/or boardshorts, Beach towel, Hat and sunscreen
Basic workout gear for fitness sessions
Camera / your smartphone
Party Funds
Insect Repellent
Funds for photos and merchandise if required
A hoodie for cooler evenings
When do I pay the local payment and why?
The local payment of $1,000 AUD is to cover the cost of the official certification and accreditation as a level 1 instructor through ASI. This is not a mandatory charge and the Academy courses can just be used as a personal developmental tool if preferred. To ensure a successful pass rate, we also use internal assessments prior to the student commencing the official certification process. The local payment covers the following qualifications:
Ocean Surf Safety Award
Apply First Aid (Senior First Aid)
Work with Children Check
Surf Coaching Level 1 Award
Advanced Resuscitation
Do you have flexible booking options?
Yes, the date can be changed for free up to 14 days before travel. 
What is Mojopay?
Mojopay allows you to make a deposit and pay the remaining balance 30 days before your start date. The repayment plan, frequency and value of payments is definable by the customer.
What are the chances to pass the instructor test?
Everyone progresses in their surfing at different speeds, but with the support and instruction from the qualified and experienced academy coaches we give everyone the same chance to pass the instructor course and gain your qualifications. You will attend surf fitness sessions that will increase your overall fitness including swim training giving you the best chance of passing the Ocean Surf Safety Award. Surf theory lessons and coaching practical opportunities will increase your chances of being completely prepared for the qualifications assessments. The academy is a challenging and exciting experience where you learn new skills and make new friends along the way.
I am not very fit, will I still be able to join?
You will become very fit by the end of your Academy package! It's a good idea to start some swim training if you can before the Academy, but if you don't get around to it we will whip you into shape in no time!
How long does it take to develop an intermediate surfing skill?
To surf at the intermediate level requires the ability to ride waves and perform manoeuvres in the correct section with correct balance. Most importantly, it requires an ability to read the waves and how the elements and conditions alter their state.  A general knowledge of the ocean and surf, hazards and conditions at different types of surf breaks are all important factors to give a holistic understanding of intermediate level surfing. No wave is the same. No surf break is the same. Conditions can change constantly. This knowledge and skill can only be acquired by time in the surf and practice.
Depending on your ability, ocean and surf knowledge and experience, it takes approx. 500 – 1500 hours to be able to surf at the intermediate level.
Day 1: Pick up and Day Preparation Pick up and Day Preparation Arrive into Byron Bay

When you arrive at Spot X our Academy Leader will meet you at the bus stop and bring you to the surf camp to check into your dedicated Academy Camp, explore the location, socialise and meet your new crew.

Depending on where you are coming from you will have a meal included that day and then an orientation session. You are then free to head to the beach, explore or just relax for the evening.

Itinerary is subject to change

Day 2-84 A Typical week

Begin each day with a tasty breaky available from 7am. Then head off on your surf lesson with Mojo's elite instructors who will take you to the break of the day to begin your surf lesson. Arriving back at camp around 11am you can then chill out, head to the beach or grab some lunch in town.

From 3pm-5pm Monday to Friday you will have a theory lesson or fitness classes.

After 5pm you are free to head into town for a multiple choice of dinner venues, grab something tasty from the Arts Factory Cafe or cook yourself dinner using the kitchen facilities of the camp.

Mondays Surf Fitness

Start the day with your surf development practical lesson. Surf fitness includes either swimming training in our local pool or ocean based fitness when conditions permit.  This allows us to give you direct ocean safety experience and awareness as well as practice negotiating ocean based swimming. 

Tuesdays Surf Theory Lesson

Start the day with your surf development practical lesson. Participate in a surf theory lesson where you will be taught all things surfing, such as; ocean awareness, surf etiquette and even surfboard repair.

Wednesday Fitness Session & Bonus Surf Theory Lesson

Start the day with your surf development practical lesson. Each Wednesday, 3 month instructor students have a bonus theory lesson where you are taught all the essential skills to become an awesome surf instructor. After which the whole Academy crew will take part in circuit training to strengthen the core muscle groups essential to surfing.

Thursdays Flexibility Session and Time to Chill

Start the day with your surf development practical lesson. Thursday afternoon is time to chill with a relaxing yoga style surf flexibility session to relax your muscles after a hard week of surfing and to calm your mind with some chilled vibes.

Fridays Weekly Video Analysis

Start the day with your surf development practical lesson. Fridays involve video analysis with a qualified instructor, arguably the best weapon in the coaching arsenal, to help improve your surfing and see exactly what you need to work on.

Saturdays and Sundays It's up to you!

The weekends are all yours! You can chill out, surf, hang out with friends or go visit some of the sights and scenes the local area has to offer. This is also a good time to practice and hone those developing skills and be ready for the week to come! 

Day 91 Depart Byron Bay

It's see ya later, not goodbye! After 91 Days at the Byron Bay Camp you leave a surf legend and possibly an instructor too! You can then catch your included transport back to Sydney or Brisbane, or stay on in Byron Bay and keep living the dream. Yew!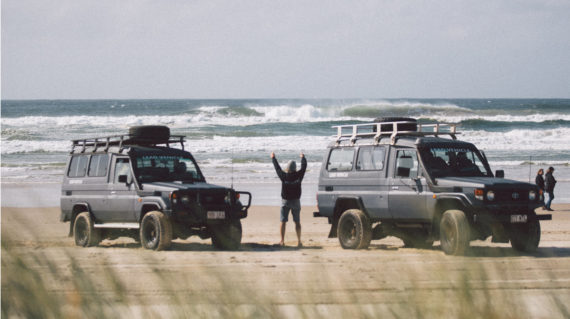 Accommodation Overview
Exclusive Mojosurf Academy Rooms
The Mojosurf Academy Camp provides dedicated and separate 3 or 4 shared accommodation exclusively for Academy members.
Surf Camp Facilities
The Byron Bay Mojosurf  Academy Camp is located at Spot X Arrawarra, 30 mins north of Coffs Harbour and has all the facilities you would need including:
Beachside living
Communal kitchen
Free Wifi
BBQ
Campsite
Laundry Facilities
Onsite Parking
Volleyball Court
ACCOMMODATION
Reviews
MOJOSURF ACADEMY VIDEO REVIEW
Robyn tells us about her time at the Mojosurf Academy
| PRODUCT | LOCATION / NIGHTS | DESCRIPTION | PRICE | |
| --- | --- | --- | --- | --- |
| 3 Month Surf Instructor Course | | Includes 90 nights at Byron Bay Surf Camp, 1 meal per day, return transport (subject to border restrictions) from Sydney or Brisbane to Byron Bay, weekends off to explore, all surf equipment, surf lessons, surf theory and surf fitness sessions. Additional $1000 local payment for the statutory certification and accreditation. | | |